HomeOne is a low down payment option that serves the needs of more first-time homebuyers, so that more people can realize the dream of homeownership, regardless of their income levels or geographic location.
ELIGIBILITY GUIDANCE:
Purchases and R&T Refinances
Homebuyer education required for purchase transactions when all borrowers are first-time homebuyers
One-unit properties with fixed-rate financing only
Standard 35% mortgage insurance coverage required for LTVs > 95%
At least one borrower must be a first-time homebuyer*
*Per the Single-Family Seller/Servicer Guide, a first-time homebuyer is defined as an individual who meets all the following requirements: Is purchasing the mortgaged premises, will reside in the mortgaged premises as a primary residence, had no ownership interest (sole or joint) in a residential property during the three year period preceding the date of the purchase of the mortgaged premises.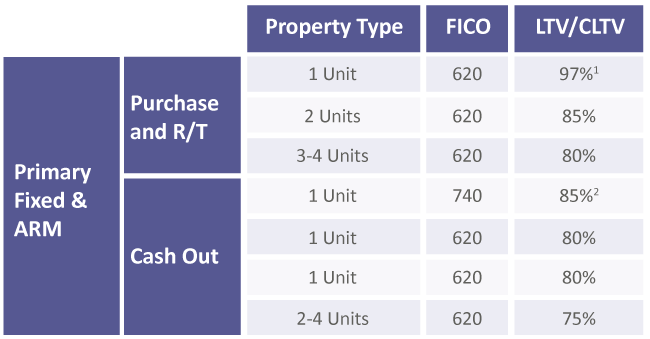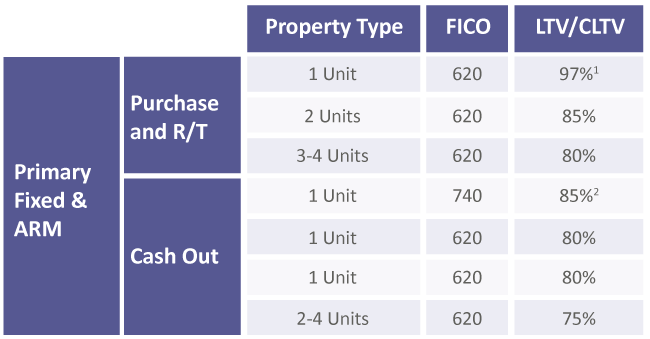 (1) 95.01% - 97% LTV is only available for HomeOnesm Mortgage fixed rate loans for the purchase or refinance of a one-unit property. At least one borrower must be a first-time homebuyer for a purchase. See section 3.3 First-Time Homebuyer for requirements. For a refinance, the current mortgage loan must be owned by FHLMC and the new loan is not eligible for HARP. Super Conforming loans not permitted.
(2) Fixed Rate only. Super Conforming not permitted.
To learn more, please review the Conventional product matrix on our Product Profiles page. HomeOne information is included in the Conventional product matrix.