SmartFunds was designed to provide attractive financing for borrowers qualifying with assets only. It features loans up to $3M, with no employment, income or tax documentation required! 
Highlights:
Net residual assets > 60 months of total monthly obligations + reserves
LTVs up to 90% for Purchase & Rate/Term and up to 85% Cash Out – No MI
Primary residences and second homes (no NOO)
Borrower can own up to 15 financed properties
Reserves waivable on Rate/Term with the <$1.5M loan amount, 0x30x12, and decreasing housing payment
No pre-payment penalty
No DTI calculation
30 yr Fixed, 10/1, 7/1, 5/1 ARMs – all with optional Interest Only; Fixed 40 yr Interest Only option
Here's how it works:
Simply put, we add up all their eligible assets and subtract the entire loan amount and closing costs. Then we compare that to their total monthly obligations over 5 years plus reserve requirements. If qualifying assets are greater than their total obligations and reserves, they qualify.
Example: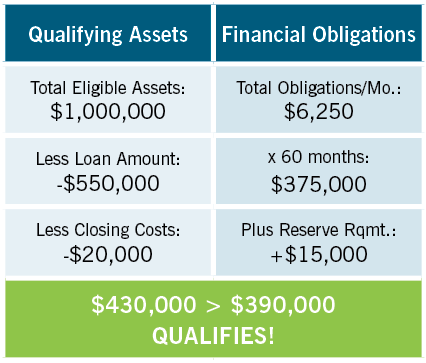 Refer to guidelines to determine which assets may be used and to what extent.