Effective immediately for new applications and loans locked today, February 13, 2019, NewRez is updating the Dream Big product to align with the investor's requirements.
These changes are for 20-, 25- and 30-year fixed rate loans as outlined below. 


No eligibility changes were made to the 15-year fixed or ARM products. Please note that Loan Scorecard will be updated at a later date. Notice will be provided at that time.


Many expansions are occurring for owner-occupied including lowered FICOs and increased maximum loan amount for cash-out refinances. Investment properties will now allow 2-to 4-units, with increased maximum loan amount and lowered FICOs. Some contractions are occurring as well, with owner-occupied rate and term refinances updated to a maximum 80% LTV, maximum cash-out amount updated to $300,000 and no cash-out permitted on investment properties.


Please note as an alternative that Jumbo Series F and J allow rate and term refinances to 90% LTV, and investment property cash-out.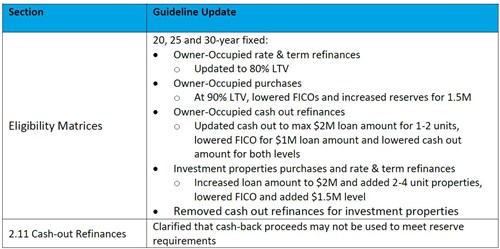 Please reference the Product Profiles page for full details of the changes outlined in this announcement.